"Rose Petal Jam: Recipes and Stories from a Summer in Poland"
Poniższą informacje otrzymałem od p. Ładaka.

If you've already seen (or are lucky enough to own) "Rose Petal Jam: Recipes and Stories from a Summer in Poland" by Beata Zatorska and Simon Target, you know what a wonderful book it is.

But if you're not familiar with the book, you're in for a marvelous treat. The book's traditional Polish recipes (including, of course, one for rose petal jam) are accompanied by Zatorska's wonderful stories and reminiscences and by Target's beautiful photos of Poland.

This link will take you to one of many glowing reviews of "Rose Petal Jam":
www.realfoodtraveler.com/2011/11/rose-p … -poland-3/

Thanks to the Warren Public Library, you'll have a chance to meet the authors, who are coming from Australia to visit several American cities before visiting Europe this summer.

Saturday, May 18, 3:00 PM
Warren Public Library, Civic Center
(Van Dyke north of 12 Mile Road, across from the GM Tech Center)
Free parking next to the library Civic Center

The library will have copies of "Rose Petal Jam" available at a special price.

The authors will also talk about their new book, "Sugared Orange Zest: Recipes and Stories From a Winter in Poland," coming out in July (to be followed by two more books, each featuring one of the remaining two seasons).

Please pass this along to others who might be interested in learning about this delightful book and meeting its authors.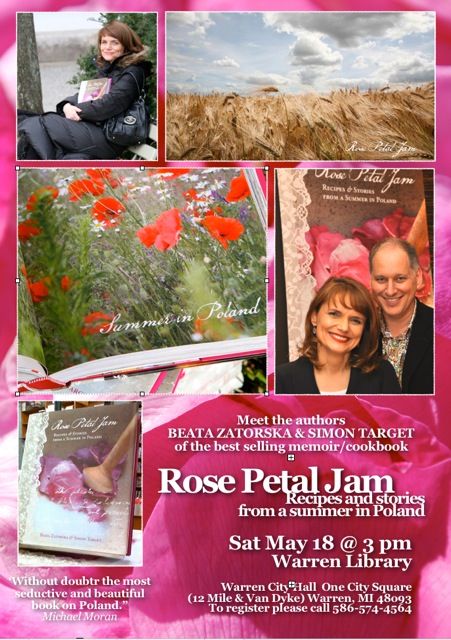 So if you'd like to come, call: (586) 574-4564
---
That's all, folks
Przekażmy sobie znak pokoju.
Hasta la vista, Vaya con Dios
Я возвращусь, Ich werde zurück sein, Je reviendrai, Estarei de volta, Θα είμαι πίσω, I červnu se zpět, Leszek vissza, وحقوق عودة